Electrical PPE Requirements | We all know that without PPE we can't do any work in the site. In power plants, chemical plants or oil and gas plants, without PPE even security will not allow you to enter the site. Because, PPE is a standard safety rule that should be followed by everyone to do work in any site. Personal Protective Equipment is widely called PPE. It is a safety method to reduce the job risks and prevent an accidents.
Electrical PPE can protect electricians from
Moving equipment
High and low temperatures
Light radiation
Welding brazing
Heat treating
Strong lights
Falling objects
Sharp objects
Flying objects
Electric hazards
Dangerous gas leaks
Slip, trips, and falls.
An arc flashover
Noise and high decibel sounds
These are the major hazardous situations that make us to take a risk. We all need to determine the work situation to use proper personal protective equipment that minimize a risk of work activity.
Every electricians must know how to use and when to use electrical PPE. They should make sure an equipment condition by check a safety validity sticker.
Why is Electrical PPE necessary to do electrical work?
Assume that MCC panel is live but you need to take the current measurement of electrical cable and no one is with you. What will you do? These kind of situations are hazardous. And hazard make an accident. So, there is a procedure of safety to do electrical live work with minimal risk. Electricity insulated safety shoes, helmet, arc flash shirt and pant or arc coverall, arc protect gloves, earplugs and transparent goggle are the mandatory electrical PPE should have to wear before operating any electric panels.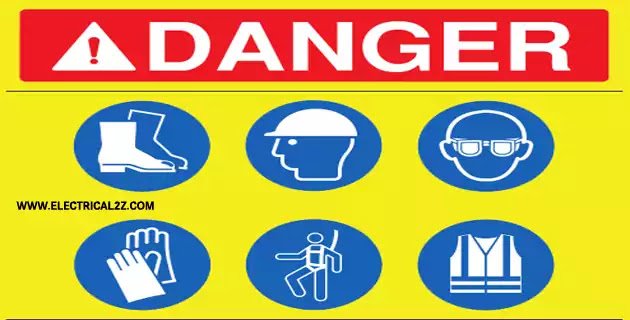 If there is any arc flash occurred in that switchgear room, arc clothe would be protect you. But to protect our face we need an electric face shield that will fight against arc. While turning on the panels into live we should have to wear face shield and cover complete body to prevent an arc flash skin damages.
Note : To do any operation in panels or work in live line you need a qualified certificate and respective work experience. There is an electrical courses in US, UK and Gulf countries which is needs to be done before to work in switchgears. Safety is first and electrical is not a  rock and roll thing. Think before to touch anything.
That is why electrical PPE is more important to electrical than any other engineering departments. In the below paragraph, you can know lot about electrical PPE.
Electrical PPE Requirements
Safety department has divided the protection types into 5 different ways. They are,
Eye and Face protection
Head Protection
Hand protection
Foot protection
Fall protection
Eye and Face Protection
Equipment used to wear that prevent any impact on eyes, chemical or liquid spills, toxic gases, vapors, chemical contact, thermal radiation, metal cutting, welding, light radiation and powder, fume, mist, dust, flying objects are called eye or face protectors.
Face shield
Full face protectors or face shields are used to wear on face to cover from liquid splashes and flying particles.
It is also used to protect arc flash that occur in switchgear rooms. Face shields are mandatory when energize the panels.
Arc flash equipment are used to wear during maintenance, diagnose and repair period .
Safety Glasses
It is used to protect eyes from hitting objects while simple electrical works.
Transparent Safety Goggles
The White goggles are used to protect eyes from a light radiation. The white goggles are make our vision clear in indoor areas.
Safety advises to replace a glasses, goggles and face shields if it has scratches. You must replace once when it's broken or damaged.
Earplugs
In commissioning period, we turn on fire alarm equipment to check it. At that time we would hear a sound above a 100 decibels. Like situations we need to use earplugs to protect our ears.
Electricians should wear a hearing protector if the noise or sound level at the plant exceeds 85 decibels as per safety rule.
Hand Protection
Metal or mesh gloves are widely used to protect hands while working with sharp edge materials. You need to use leather gloves on rough surface areas. Padded cloth gloves are used when there is sharp edge, dirt and vibration condition.
If your gloves are damaged need to replace it. Otherwise it depends on work situation and sites.
Arc protective gloves or electricity insulation gloves are used to wear by electricians in construction or maintenance sites.
Without gloves we would get cuts from sharp edges,  chances of hand burns around heat areas. In any sites, worker has Stop Work Authority (SWA) to allowed to stop work if there is no proper PPE.
Safety Shoes
Footwear that protect the toes from 200 joules impact is a standard safety shoe as per UK standard. When it comes to electrical workers that we need to buy an electricity insulated shoes. For the electrical workers, it must be protect against accident and electricity.
Industrial Hard Hat
Electrical insulation helmet is a standard and safe hat for an industrial electrical worker. Industrial hard hat must be protect electricity for an electricians.

You can use safety helmets up to 5 years without damages. But once it's damaged you should replace that immediately.
Arc Flash Clothing
Arc flash coverall or shirt and pant is used to protect against arc flash but it will not prevent flashover. When electrician operates LV, MV or HV panels need to wear it to energize or de-energize the panels.
Fall Protection
To work above 1.6m height you must use safety harness or safety restraint. Safety restraint is used to prevent falling and eliminating the risk of work location. Electricians must ensure that the equipment are strong and safe in before use.
Global safety department accident prevention instructions are
Right PPE for right work.
Well-off conditioned equipment
Inspected, approved and comply with safety standard PPE usage.
Conclusion
These are the main PPE that required for electrical work. Electrical PPE are the safety precaution but you need to be conscious when you do any operation in site. Don't enter switchgear or substation room without proper personal protective equipment. Subscribe to E2Z to get new updates and learn electrical engineering.